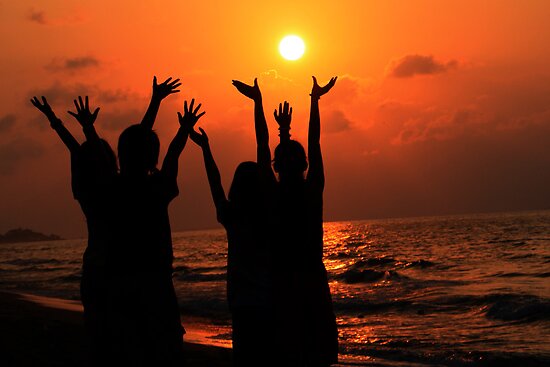 "Jesus said, "For where two or three come together in my name, there am I with them." Matthew 18:20
I can walk into a certain place or into the presence of someone else and know He's there (or not).

I can't tell you what he looks like; the shape of his face, the color of his hair, or the texture of his skin, but I know when I'm in God's Presence - when he's as close as my own breath. But h
ow do I discuss watching for His Presence i
f I've not be
held his color, texture, or form? How do I make the One I know soul deep recognizable to you?
How do I introduce you to a someone whose glory shines everywhere if you're looking but who's full faced glory would kill you if you saw him? Who can describe that?
And if God's so indescribable, how do I show you where he is?
One thing I do know - one sure way of finding him? He always shows up at a good party!
When we gather together and fill the room with music; when our lips give witness to His goodness and we sing with heartfelt praise, God can't resist that. He never could.
"The trumpeters and singers joined in unison, as with one voice, to give praise and thanks to the LORD. Accompanied by trumpets, cymbals and other instruments, they raised their voices in praise to the LORD and sang: 'He is good; his love endures forever.' Then the temple of the LORD was filled with a cloud... for the glory of the

Lord

filled the temple of God." 2 Chronicles 5:13, 14
God's Presence manifests in the praises of His people!

Joy is not a prerequisite to praising him. In fact we're told to praise him during the good times (because all good things come from God) and in the bad times (when the Enemy shakes us up). Whether you believe it or not, God so wants to show you how much he loves you, especially during those times. Praising God in tough times is like making a faith deposit. God will honor your faithfulness and your sacrifice of praise. His Presence will manifest itself in your life through that situation transforming it into something good.
Prepare your heart for worship. Offer a sacrifice of praise, even if it's hard. Earnestly and sincerely seek God's face. Boldly ask him to manifest his presence where you are and shift the atmosphere. As you experience His Presence, rest in it, "watch" it and see where He leads you.